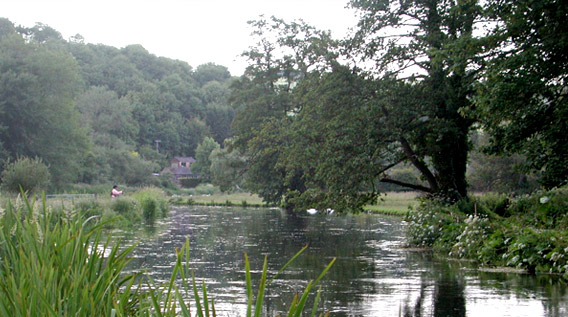 The best trout fishing on this, the third of the "major" chalk streams, is upstream of Salisbury, where it is known as the Wiltshire Avon. As Halford and Skues are synonymous with the Test and Itchen, the riverkeeper Frank Sawyer, inventor of the now ubiquitous Pheasant Tail Nymph, will always be associated with the River Avon. This remarkable, yet simple creation can reasonably claim to be the most successful trout fly pattern in the world.
The Avon is formed by two streams, the east Avon, which rises in the Vale of Pewsey, and the West Avon, a greensand (i.e freestone) tributary that joins it near Manningford Bruce, and which can briefly colour the river downstream after heavy rain. Despite this, afficionados of the Avon will tell you they prefer it to any of the other major rivers, as throughout its length it is generally less manicured and has a timeless English beauty. It also uniquely has a hatch of mayfly (green drake) that runs throughout the season.
The Avon has 4 tributaries: the Wylye, the Nadder, the Wiltshire Bourne and the Ebble. All of these offer fantastic and challenging fishing for wild brown trout, though the Wylye and Nadder are also stocked in places as well. Famous Fishing has access to the Avon and all its tributaries.