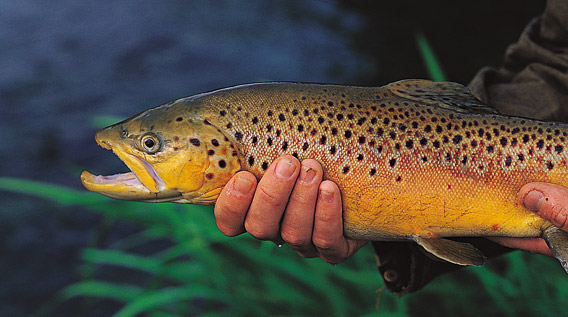 The Dever or Bullington Stream joins the River Test at Newton Stacey just upstream of Wherwell. Like the other Upper Test tributaries it is known for the clarity of its water. The fish tend to be highly visible, hanging in front of big beds of starwort and lazily tipping up from time to time to sip down passing insects. In recent years the river Dever has suffered from a shortage of water due to abstraction, perhaps more so than the other chalk streams.
Other tributaries of the River Test The Dun enjoys some of the characteristics of a true chalkstream, but does not run as clear as the main tributaries, and has, like the Nadder on the Avon system, a tendency to colour after rain. It rises not far from Salisbury at East Grimstead, and joins the Test at Kimbridge.
The Wallop Brook is a small stream that joins the Test at Bossington.
The Blackwater is a peaty stream coming out of the New Forest and joining the Test on the Broadlands Estate at Romsey. Its only claim to fishing fame is as the main spawning area for Test sea trout.